Fix N.S.W. Transport!
Long-term planning
Shortly after its election in 2011, and pursuant to a pre-election promise, the O'Farrell government created a body called Infrastructure NSW. Its original purpose was to ensure that large projects were good value.
The government's transport ministers (Duncan Gay and Gladys Berejiklian) agreed to jointly produce a long-term transport master plan covering the period until 2031 (which by the time the plan emerged was only 18 years away). Four advisory committees were set up (Industry, Transport Specialists, Local Government, Customer and Community) to help produce the plan. There was extensive public consultation, involving meetings around Sydney and in regional areas. Written submissions were taken.
Precisely what the first master plan was intended to do was never stated. It might have been entirely about the process of planning, clearly stating how proposed transport projects were to be designed and assessed. However, that didn't happen. Numerous projects were identified in the plan with no indication that they had been planned and designed competently.
A final version of the plan was issued in December 2012. It made many claims, including that transport and land-use planning were now united. However the real decisions remained under control of the relevant ministries as witness the three biggest transport-related decisions of the time all of which were made without any involvement of the Master Plan's processes:
Building the Westconnex tollway (and later Northconnex)
Truncating the Newcastle railway at Wickham, promising to replace it with light rail
Building Sydney's north-west rail link with driverless metro-style trains rather than double-decker trains.
The 2012 Master Plan was not heard of again. However in October 2017 a waffly PDF document surfaced called "Draft Future Transport Strategy 2056". It refers to other equally waffly documents relating to services and infrastructure, each with a web page. Generally, it shows no sign of conjoint land-use and transport planning. It makes frequent reference to providing for the private car. It also has oddities. Perhaps the most outrageous statement is its policy (page 23) that by 2056 the majority of road travel in NSW is to be on 4-star or 5-star roads. That would be possible in a new town and perhaps feasible in Canberra but in rural NSW and/or eastern Sydney it's out of the question because so many of the roads were designed more than a century ago.
Sydney's future is addressed in a document called Greater Sydney Infrastructure and Services Plan. It accepts Greater Sydney Commission's division of Sydney into three parts. The future shown for transport in the eastern part (Sydney east of about Lidcombe) is disappointing. Apart from metro lines already announced and/or under construction, the only new transport corridors for investigation are Parramatta-Kogarah and Macquarie-Hurstville but they're not guaranteed to be rail - they might only be a glorified M41 or M91 Metrobus. However all arms of Westconnex (including western harbour tunnel, beaches link, F6 and the airport gateway) are shown as committed.
There are only two suggestions of light rail expansion around Sydney - a new branch of the inner west light rail to serve The Bays Precinct and an extension of the Kingsford line along Anzac Parade. The plan does not acknowledge that neither of these proposals is feasible unless and until alternative termini are provided at the CBD end of each line to accommodate the expected passenger numbers.
An example of the sort of vision that the 2056 plan should have can be seen in the 2001 Christie report titled "Long-term Strategic Plan for Rail" in the Greater Sydney metropolitan region. Particularly see the suggested prospective network diagram in Chapter 5.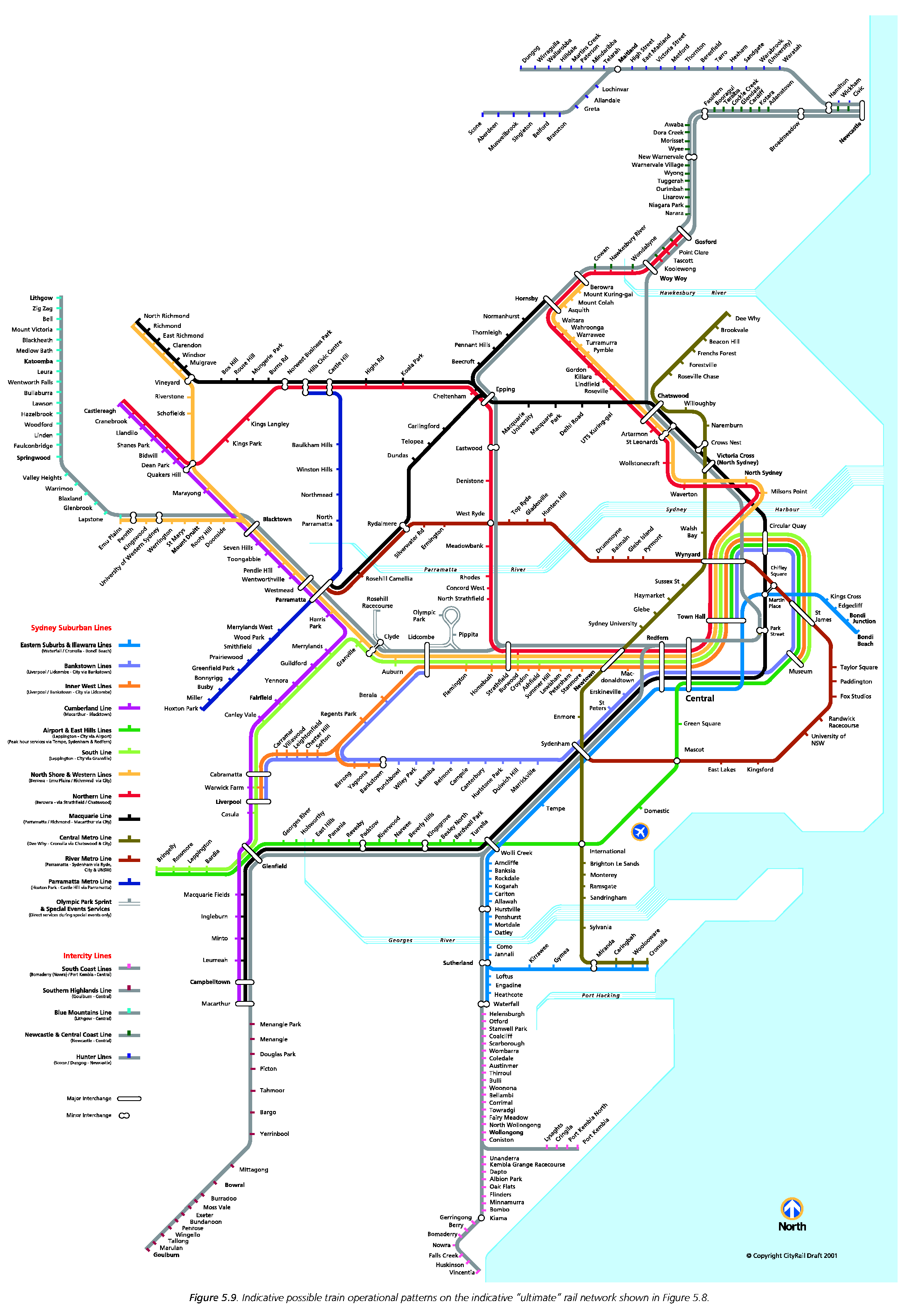 The benefits to travellers in Sydney of a meshed network should be completely obvious to anyone who has used metro systems in London, Paris, New York, Tokyo, Shanghai or many other modern cities. Yet 17 years later, there is no such vision for an enlarged Sydney railway network. Prophetically, Christie warned that major amplification of the suburban rail network needed to be completed by about 2015 or there would be intolerable overcrowding and frequent breakdowns.
Many commentators have drawn comparable networks. The advantage of Christie's version is that it recognises constraints such as line capacity and expected patronage. But if you think you can do better, there are many matters to remember:
There is no need for all lines to pass through Central or any other single point.
Railway Square is not close enough to railway platforms at Central to deserve its name. For example, the KFC facing the western corner is at least 500 metres' walk from any railway platform and will remain so until the light rail service in Rawson Place opens. A better name for the area might be Broadway Square.
The existing Inner West Light Rail does not have enough capacity for the districts it serves (most of the load is between Pyrmont and Central) and does not provide quick trips.
The CBD & South East light rail will not have enough capacity for the district it serves. Underground rail will still be needed in the south east.
In most large cities, railway stops tend to be closer together in the denser parts than the outskirts. Most metro systems are designed to facilitate shorter trips between closer stations. See this table.
Sydney's present rail network covers a lot of suburbs but there are many areas out of reach of rail, including several inner suburbs. See this list.
Any construction or conversion that requires working railways and/or major streets to be closed for many months (George St has been substantially closed for over three years with no end in sight) imposes a massive cost that should be taken into account beforehand.
etc. etc.
A minor chapter in the master plan saga was the issue in December 2018 of a draft plan for older persons' transport and mobility. However, it contained nothing of relevance to special issues for older persons using public transport. We can only hope that will be rectified in the final plan and that older persons really are considered in planning public transport around Sydney.
Help us tell the NSW government that Sydney's future deserves better planning than exhibited in the master plan.


Fix N.S.W. Transport!