Fix N.S.W. Transport!
Sydney Metro City & Southwest
The North-west Rail Link is to be extended southwards from Chatswood. New tunnels will be bored from Chatswood under the harbour to the CBD. There are to be stations at Crows Nest, North Sydney, Barangaroo, Martin Place, Park St and Central. There is to be only one station between Central and Sydenham which will be in the Waterloo area. The existing railway from Sydenham to Bankstown or perhaps Yagoona is to be converted to metro; presumably there will be an interchange at the terminus station connecting via double-deck trains to Liverpool and Lidcombe. The metro line may continue to Liverpool on an as-yet-undecided new alignment; perhaps the stations beyond Yagoona will end up with light rail.
The plan has major issues:
Converting the Bankstown line to driverless trains will be very disruptive, so much so that some commentators expressed doubt it would ever happen.

Platform gates require the platform edge to be straight or nearly straight to ensure there won't be any gaps between the train and the gate that might let a passenger get stranded between the gates and the trains. Achieving this straightness will require extensive works at certain stations - track and platforms will have to be shifted. Sydenham will be an especially awkward case because land will be taken from an adjoining busy road. Several other stations will need small slices of land from adjoining parks and car parks. We understand that Dulwich Hill station cannot be straightened so platform edges will need retractible ramps aligned with train doors. If Bankstown station needs one or two more platforms for interchange, considerable land will have to be taken from the park south of the station.

Despite recent announcements, many month's shutdown of the whole Bankstown line during conversion should be expected. Other rail services using Sydenham will be disrupted also, as will be road traffic around and over Sydenham station. Locals are realising the problems. Learn more... and still more...

Railways should be carefully planned before building. About one hundred years ago, John Bradfield was planning Sydney's suburban railway system. Thanks to his planning, facilities like interchanges were built. We have stub tunnels (e.g. North Sydney and St James) to permit network expansion without disrupting services and we have interchange stations like Town Hall which were planned with more platforms than needed initially.

But Sydney Metro doesn't work like that. The north-west line is being built with technology quite different from that on the existing network. And the second stage, from Chatswood to Sydenham, is to be built without stub tunnels at North Sydney and Waterloo which were planned in the EIS. The stubs were deleted in the Preferred Infrastructure Report released in October 2016.

Although at least one other line has been mooted and is apparently under investigation, nothing has been said about how it will connect to the City & Southwest line. Will there be an interchange station? If so, there certainly won't be cross-platform interchange. Announcements made so far suggest that the metro to Parramatta is being planned for developers not passengers.

The so-called Sydney Metro isn't a metro. Metro railways are supposed to carry passengers on shorter trips in the CBD and near it. The main metro-like feature of Sydney Metro is its carriages, which are optimised for metro service with minimal seating - about 63 seats per single-deck metro carriage - even though quite long trips will be common. Existing double-deck Sydney trains like the Waratah or Tangara have over 100 seats per carriage.

Otherwise, Sydney Metro is a 65 kilometre suburban railway.

The so-called Sydney Metro isn't a transport project. Metro railways are supposed to carry passengers. Sydney Metro seems to be designed to carry development, with passengers an incidental. In what is becoming standard procedure for the NSW government, the public is told that transport services somewhere need amplification. Then transport expansion is announced. And soon afterwards we find that the area will undergo development on a scale that will obviously exhaust the announced increase in carrying capacity.

In this case, we have been told that a metro railway can carry up to 45000 passengers per line per hour whereas double-deck systems like the existing Sydney lines can barely carry 25000 passengers. Implicitly, conversion to metro will solve all the problems of the Bankstown line. Meanwhile, the NSW Department of Planning & Environment has announced a project called Sydenham to Bankstown Urban Renewal Corridor which seeks to double the population of the same Bankstown line. You can read about this project here; note that submissions closed on 31 January 2016.

Sydney deserves more new rail stations than are proposed for Sydney Metro.

There are many holes and gaps in Sydney's rail network. Some are tantalisingly small and could be remedied with benefits far greater than their costs:

The most obvious missing link is Bondi Junction to UNSW/PoWH. It's about 5km. It was part of Neville Wran's ESR plan but was not approved. Building it would provide some very handy capacity which would allow nearby light rail to do what it does best. There are thousands of available seats per peak hour on trains between Bondi Junction and the CBD.
Another gap is Carlingford-Epping. When light rail is built from Westmead to Carlingford, it should be extended underground via Carlingford Court shopping mall to Epping. The connection (about 4km) would link Parramatta with both the Northern Line and the North West Metro.
Another is Tallawong-Schofields. Connecting them with metro (about 3.3km) would connect the North West Metro with the Richmond line and be a worthwhile step in building a network in the north-western suburbs.

It is extraordinary that Sydney Metro is to have only one station between Central and Sydenham and similarly only one station between Chatswood and North Sydney. Many inner areas of Sydney are badly-served by buses due to heavy traffic and are remote from rail stations yet do not feature in metro announcements:

Neutral Bay
Haymarket
Woolloomooloo
Taylor Square and Darlinghurst
Paddington
University of Technology and Broadway
Ultimo
The Bays
Balmain
Forest Lodge and most of Glebe
Sydney University around Eastern Avenue/Fisher Library
RPAH (the hospital is to build a new 996-space car park!)
Annandale

… and slightly further out:

Lane Cove
Gore Hill medical, educational and media facilities
Northbridge/Willoughby
Cremorne
Mosman
Woollahra
Bellevue Hill
Charing Cross
the region east of Sydenham [unless the Eastern Suburbs railway is completed at least as far as Kingsford]
Maroubra
Rosebery
the region south of Sydenham
Marrickville Metro shopping centre and Enmore
North Marrickville
Leichhardt
Drummoyne
Fivedock
Haberfield
Ashbury
Croydon Park
South Strathfield and Belfield
Putney
Gladesville
most of Ryde
Ermington
Silverwater

… further still:

West Pennant Hills is on the NWRL route but without a station. A station at Thompsons Corner would have halved the 6km gap between Epping and Cherrybrook stations.

Adding stations to an underground railway once it is operating is generally not practicable.

Note that opening the NWRL part of Sydney Metro in May 2019 affected services to upper Northern Line rail stations and therefore satellite districts of those stations may be even worse off than formerly depending on the time of day:

North Beecroft
Westleigh
Roselea and Murray Farm Road

South:

Erskineville and Ashmore (experiencing rapid growth due to new developments)
St Peters

These areas are apparently to be served by the East Hills line. Residents there fear their rail services will be worse than now but in any case the East Hills line can hardly spare any trains because developments around Wolli Creek and Mascot stations will heavily load East Hills trains.

In the south-west, there is a large hole around Bankstown Airport, comprising Condell Park, Chipping Norton, Moorebank and Milperra. It houses thousands of people and many jobs yet has no trains.

For an interesting discussion of the Sydney Metro project, showing why the NSW government is not keen on building new underground rail stations [yes, the cost!] see this SMH article.


Many passengers will have to change trains between single- and double-deck at Bankstown. If, for example, the interchange is Bankstown then trips like Lidcombe-Lakemba and Punchbowl-Yagoona will involve changing trains at Bankstown.

Central Station

The plan for Central's metro platforms shows access only at one end of the platforms - towards the main concourse. There is no connection planned for the Devonshire St pedestrian tunnel nor even the southern concourse. Many thousand passengers and locals use the Devonshire St tunnel daily to reach Railway Square and the Broadway area; depriving metro passengers of this access forces them to walk further each trip, needlessly slowing their journeys and tiring them.

Several problems need attention. The first is the limited capacity of the Devonshire St tunnel, which one hopes is the reason why the new Metro platforms don't connect to it. The Devonshire St tunnel should be duplicated by a new pedestrian tunnel immediately south-west of the existing tunnel. A connection should be constructed between the southern ends of Metro platforms, the southern ends of the suburban platforms 16-17 and a new Opal barrier into the existing Devonshire St tunnel.

Doing all this, for a fraction of the cost of the Metro system, would shorten the walking time of many thousand passengers daily. Trip time is a major consideration for travellers; public transport trips need to be made attractive compared with car travel. Older passengers find long walks burdensome.

The metro announced so far will not fully utilise the expensive sub-harbour tunnel. If the claimed capacity of 45000 passengers per hour each way is to be used, the metro will need to service more areas north of the harbour and perhaps also some more areas south of the harbour. There was to be a Hurstville line, taking over the Illawarra Local tracks south of Sydenham, but the Sydney Morning Herald reported on 3 February 2016 that the Hurstville idea had been dropped. Presumably the conflicts with freight trains were eventually recogised as unsolvable, just as foreseen by Sandy Thomas and other commentators in 2013.
Learn more about Sydney Metro and see a table showing average station spacing on many overseas metro systems. Average station spacing is easy to calculate and is a useful guide to average trip length.
Also see this EcoTransit video about the project.
Metro West
Interestingly, a Western Metro line, running from the CBD through perhaps Rozelle or Balmain westwards to Parramatta or beyond, is being touted by the current NSW government. The Rees government started a similar line in 2008 and it progressed to the stage of acquiring property in Pyrmont and Rozelle but was cancelled by the Keneally government. The mistake was lampooned by the Liberals. But some of the same management and planning staff are involved now as then.

A similar (as far as one can tell from the available information) is favoured by the NSW Opposition. However, the Opposition version is instead of the Bankstown metro conversion.

For some informed criticism, including a discussion of the importance of a western metro line, see this SMH article dated 22 January 2018.

A website was open, accepting comments on possible station sites for Sydney Metro West. Learn more... As before, there is no sign of a plan for interlinking metro lines to cater for shorter trips around the inner suburbs. But there does seem to be a target trip time of 20 minutes between Parramatta and central Sydney; this target effectively limits the number of stations which can be built on that line. The irony of using for longer trips trains that were designed for shorter trips seems to have escaped the authorities once more.
Christie's 2001 plan
An 89-page overview report "Long-term Strategic Plan for Rail" prepared by Ron Christie when Co-ordinator-General of Rail in June 2001 was suppressed by the New South Wales Government and did not surface until a leaked copy was extensively reported in the Sydney Morning Herald on 25-27 February 2002. The report pressed for a huge expansion of Sydney's railways, arguing that travel around the metropolis would become very awkward otherwise (other arguments, such as air pollution and safety, were also advanced). Christie prepared the following operational diagram for an illustrative major expansion of the metropolitan railway network, stressing that it was a conservative view of what would be required by about 2015 to cope with the demand for travel.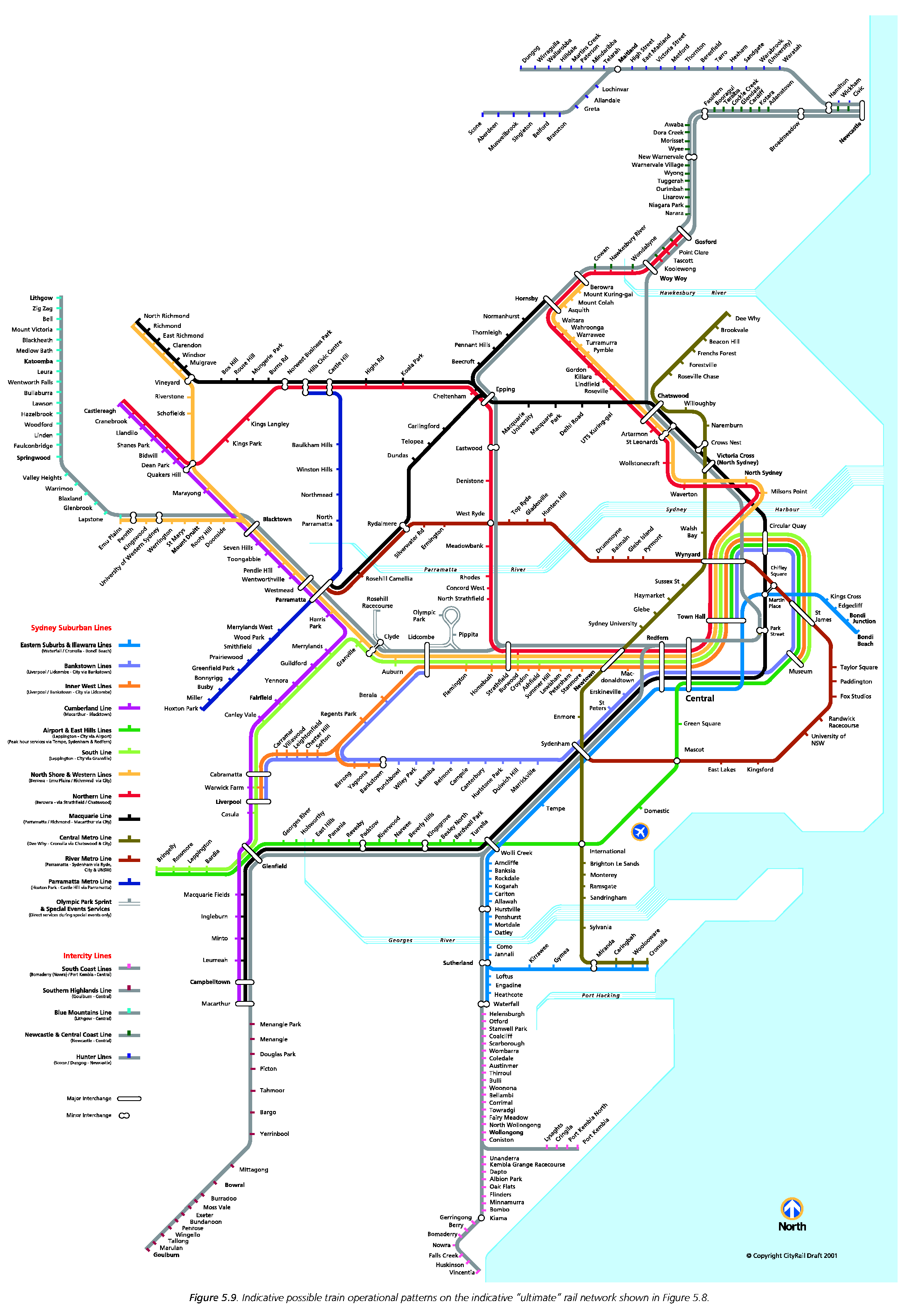 Fix N.S.W. Transport!